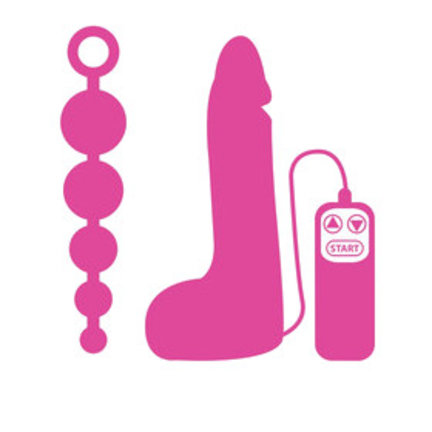 Sextoys and other sex toys from Hunkie
Welcome to the wonderful world of sex toys, toys and all kinds. Sextoys are toys that help you get more pleasure and pleasure from your sex life. Many of Hunkie's sex toys are made to resemble the penis or vagina as much as possible, with or without a vibration function. Are you single or do you have a (permanent) partner, sextoys can in any case be an enrichment. For singles it is sometimes a must have when masturbating. With the help of one or more sex toys, partners can make foreplay and sex even better and even orgasm. With sex toys you can do as much as your imagination is rich.
What you see is what you get
For which you used to go to a physical store to look and compare, Hunkie now puts everything in one overview, with descriptions and tips. That is the convenience of our webshop, where you can delve into the individual toys before you buy them. Which sex toy fits your situation and what you get the most pleasure from is very personal. Look, compare, get advice and especially follow your feelings. Our collection of sex toys is very extensive. To help you get started, we have listed a number of highlights for you. To start with the sex toys for couples and then the individual toys for him or her.

Sextoys for couples

A swing for new ideas: The Heavenly Sex Swing.
Stimulation for both during intimacy? View Lelo's sex toys for couples.
So many people, so many wishes; view the entire range of sex toys for couples.
Sextoys for women
Are you a woman and do you know what you want? Then here are a few examples of what you may be looking for and which sex toy offers an "answer" to it:
Do you want to stimulate the G-spot? View our G-spot vibrators.
So realistic that it really sprays? Go to the squirting dildos.
Do you want to train your pelvic floor? See here the vagina balls.
This is just a small selection from our huge collection of sex toys for women.
Sextoys for men
For the gentleman, Hunkie also has a range of options. Depending on what you like or maybe want to experiment with for the first time.

Alone and yet "cozy together"? View the collection of inflatable dolls here.
Sex with your favorite porn actress? Check out the sleek fleshlight girls.
Delaying your orgasm for longer pleasure? Go to the cock rings.
For this and all other toys for men, go to the main toys page for him.
Zoomed in: the most popular sex toys from Hunkie.nl
To help you orient yourself further, we have listed the two most popular sex toys. Here we zoom in on how it works, so you can immediately see if it might be something for you. It concerns the most sold vibrators & dildos and finally the cock rings for the man.

Dildos and vibrators
The dildo is a sex toy for vaginal and / or anal stimulation. The shape is often comparable to the penis shape. Dildos can be used for both masturbation and foreplay. Made of high quality glass, plastic or silicone.
Do you want an artificial penis that can also vibrate? Then you should check out our wide range of vibrators. A vibrator is made for stimulation of the clitoris, vagina, G-spot and / or the anus. In appearance, vibrators often look less like the pennis and have a smooth elongated appearance. Hunkie's range has a whopping 350 different vibrators, including the categories below:
Classic vibrators
G-spot vibrators
Tarzan vibrators
Fun vibrators
Realistic vibrators
Vibrators with app control
The choice of dildos is also not limited, choose from no fewer than 300 dildos from 11 categories:
Realistic dildos
Small dildos
Strap-on Dildos
With suction cup
Double versions
Inflatable
Dildo briefs
The special Vac u Lock
Dildos made of glass
and metal
Cockrings
Cockrings are gaining in popularity. Hunkie's range of cock rings can be divided into 5 main categories:

Cock rings with vibration function
The vibrating cock ring takes him & her into account. This cock ring ensures that both the penis and the clitoris are stimulated.
Silicone cock rings
A silicone cock ring stretches more than cock rings made of other materials and is very comfortable.
Rubber cock rings
The flexible choice for a new erotic adventure.
Metal cock rings
Penis rings made of metal provide a longer and harder erection. The penis stays stiff longer because the blood makes the swelling bodies more difficult due to the tight fit. Both for young men and for the senior. For older men, a metal cock ring can be of interest for harder erections.
Asslocks
Combination toy with cock ring and butt plug in one.

Hunkie.nl shopping: safe & discreet - shipping
For the tastiest and most exciting sex toys you should visit Hunkie.nl! At Hunkie you will find sex toys for every exciting occasion. If you feel like spoiling yourself or wanting to do naughty things with your partner, start shopping right away! Our range consists of more than 8000 sex toys. You will certainly succeed. Well-known brands such as Lelo and Fleshlight are always in stock with us!
Can't find the toy you're looking for? Then use the handy search function. You can also contact customer service, they are happy to help you! You will find a handy price comparison tool for many of our sex toys. Use this so you never pay too much! All items are delivered discreetly and quickly.